Artist-led, jazz-inspired independent label releasing inventive & original new music

Listen & stream our music, buy CDs, vinyl and HQ digital downloads from our Emporium!
'Some of the best contemporary British jazz from outside London' – London Jazz News
LATEST RELEASE:
STILLEFELT  // stillefelt (03.04.20)  //  CD Digisleeve (edition of 500)
Chris Mapp (bass, electronics), Percy Pursglove (trumpet), Thomas Seminar Ford (guitar, electronics)
BUY CD ● DOWNLOAD ● STREAM ● 

"This is the improvised sound of our time." – London Jazz News

"A 'quiet band' weaving beautiful electro-acoustic chamber jazz" – Mark Sullivan, AllAboutJazz

"It's an environment of invention and discovery; a broad canvas over which we might wander through our own imagination – and all sparked by this spontaneous artistry. A magical thing." – AP Reviews
"Music as adventurous ambience: improvisation is cleverly anchored by composition and interplay." – Jazzwise
COMING UP IN 2021:

YOUNG PILGRIMS  // We're Young Pilgrims (18.06.21)  //
PRE-ORDER ● CD Digisleeve (edition of 500) / 180g gatefold vinyl (edition of 300) / Digital DL
XHOSA COLE Qrt + Soweto Kinch & Reuben James // K(no)w Them, K(no)w Us (Coming July '21)  //
CD Digisleeve (edition of 500) / 180g gatefold vinyl (edition of 300) / Digital DL
ALEX WOODS QUARTET  // Highline (27.08.21)  //  CD Digipak (edition of 500) / Digital DL
PRE-ORDER ● Alex Woods (sax), Billy Test (piano), Marty Kenny (bass), Andreas Svendsen (drums)
HANS KOLLER with the NDR BIGBAND, MARC COPLAND, MIKE WALKER  (Autumn 2021)  // 
CD Digisleeve (edition of 500) / 180g vinyl (edition of 300) / Digital DL

STONEY LANE RECORD STORE at the Cheltenham Jazz Festival 
ON STONEY LANE RELEASES:
"An album filled with wit, originality and delight." – Jazzwise
"Object lessons of how to listen to other musicians while improvising." – The Wire
"It's electronica, but with plenty of mood-swinging clout." – The Guardian
"An incredible achievement … has to be rated as one of the most important and musically rewarding releases in 2016." – UK Vibe
"New music that is truly orchestral in scope.  An artistic triumph." – The JazzMann
"An unmistakably creative and original stamp." – London Jazz News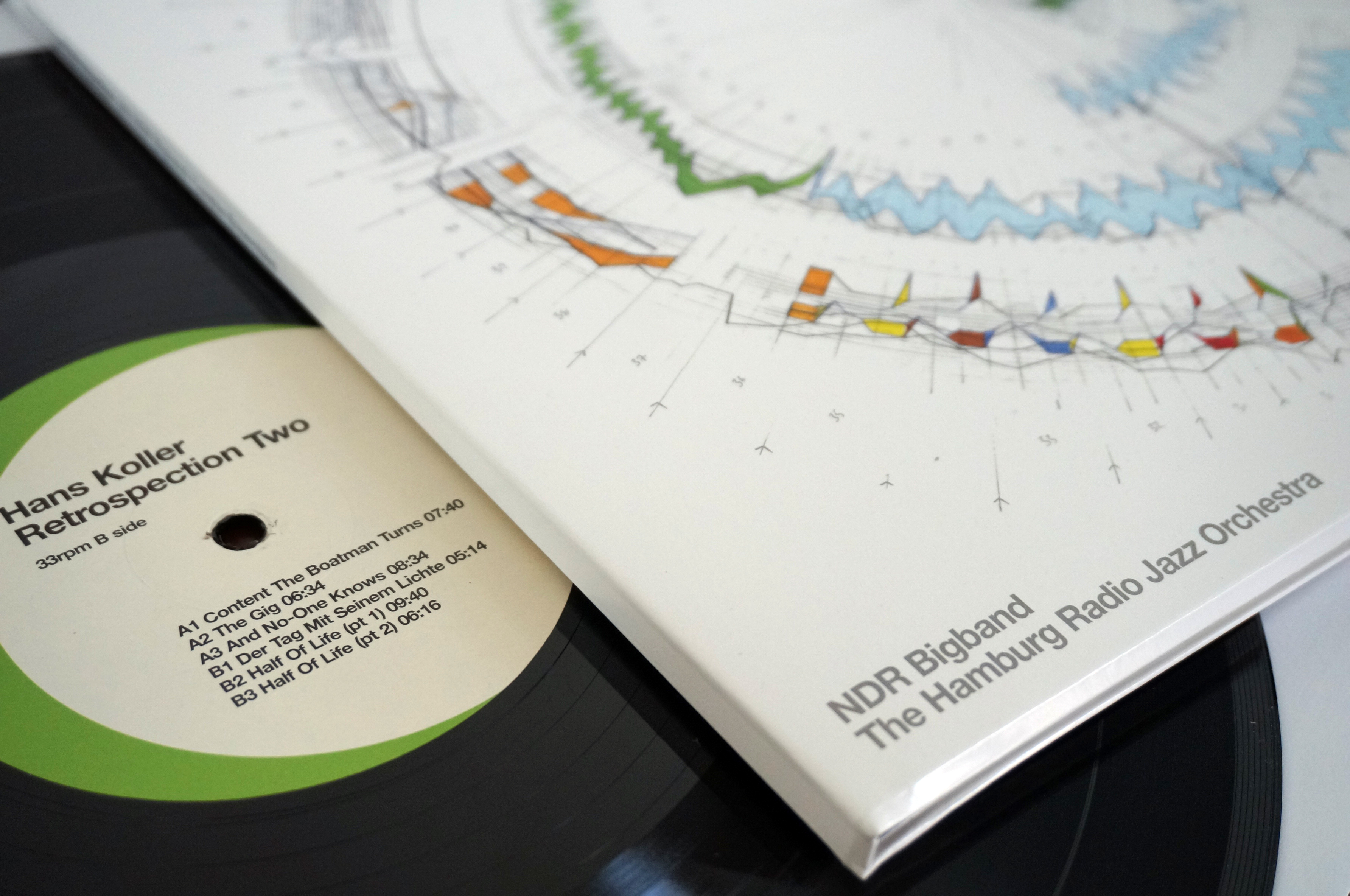 "…the young independent label Stoney Lane Records – clearly a label with a keen eye and ear for quality." – AllAboutJazz.com
"Some of the best contemporary British jazz from outside London." – London Jazz News
Founded less than five years ago, Stoney Lane is an inventive and independent artist-led record label, growing out of a whole host of musical inventions, collaborations, experiments, friendships and weird & wonderful ideas, centered around the city of Birmingham, UK, and growing nationwide and into Europe. We focus on distinctive and exciting new music that we love, going wherever the music takes us – often with jazz at its core, yet crossing the eclectic worlds of improvisation, contemporary classical, subtle electronics, and world/roots-inspired music.
Stoney Lane supports and develops brilliant young UK musicians, alongside internationally touring and established artists, whilst committing to release only a select number of albums each year as we strive to maintain the artistry, adventure and surprise of our records. We make beautiful physical releases on both CD and vinyl, from limited edition hand pressings (no we don't live in Shoreditch) to experimental artwork and original design, alongside properly-loved and faithful HQ audio.
Already the Stoney Lane catalogue is home to recordings featuring the exceptional and thriving talents of Chris Mapp, Hans Koller, Percy Pursglove, Sara Colman and Mike Fletcher, to young musicians burgeoning from Birmingham and beyond, including Alex Woods, Ben Lee, Jonathan Silk, Mark Pringle, Xhosa Cole and Young Pilgrims, to leading lights Steve Swallow, Arve Henriksen, John O'Gallagher, Stan Sulzmann and the NDR Bigband.
We produce an ongoing performance programme of Stoney Lane artists at London's King's Place, and also run the official Cheltenham Jazz Festival record store for the six days of the festival each spring, promoting independent musicians and labels.  All of our records are now crafted and released on limited-run CD, each complete with high resolution digital downloads, with selected releases on 180g vinyl when the bank manager is feeling generous.
Buy, listen and download all of our records at our Emporium, with releases also available from Propermusic / Amazon UK / iTunes;  your local independent record store, plus Spotify / Apple Music / Deezer and co (but go on, invest and buy some lovely albums as well as streaming!)
('Stoney Lane' was the home of West Bromwich Albion, from 1885 to 1900, a time when they actually won something for a change.  Our catalogue numbers follow a similarly misguided path).
Pop your details below to receive occasional email news on our artists, tours, freebies, new music and releases!