TG COLLECTIVE
"You'll see that they can let their hair down … from gypsy swing to husling, Chick Corea-ish impro … the playlist always keeps you guessing. And the telepathy is always tuneful." – The Sunday Times
RECORDS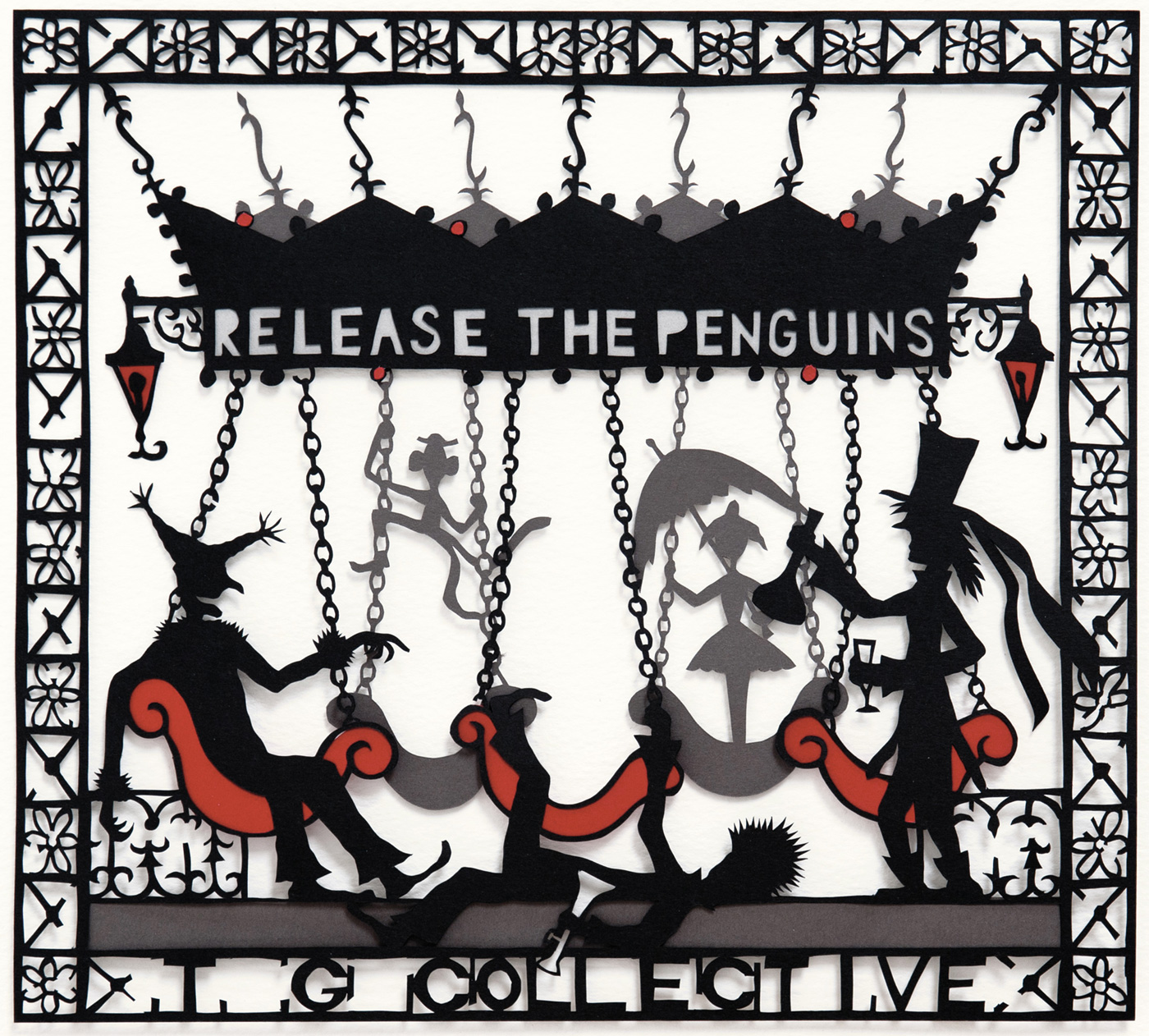 TG Collective – Release The Penguins
Catalogue – #SLM1888
Released – May 28th, 2012
Number of discs – 1
Formats – CD Digipak; Digital Download
BUY + DOWNLOAD

• Stoney Lane Emporium • Bandcamp • Amazon UK
• Propermusic.com • iTunes

  Buy Now! 

LATEST NEWS 
• 14.04.15 – Stoney Lane Launches Performance Series at Kings Place, London

VIDEO
ABOUT
The diverse instrumental 7-piece TG Collective return bring together an intriguing mix of gypsy jazz, flamenco, jazz and contemporary classical influences, based around the core of guitarists Jamie Fekete and Sam Slater. Creating 'an exciting, sensuous sound', TGC perform original music and arrangements, touching on influences as varied as Paco de Lucia, Django Reinhardt and JS Bach, and have built up a strong following with their intense live performances. Featuring flutes, bass clarinet, percussion, trumpet, double bass, violin and the Arabic oud alongside the guitars, TGC released their critically acclaimed album, Release The Penguins, on the back of appearances from BBC1 to their whirlwind tour of jazz festivals in Bulgaria and Serbia.  Read more …
Jamie Fekete – guitars
Sam Slater – guitars, oud
Percy Pursglove – trumpet, double bass
Holly Jones – flute, alto flute
Lluis Mather – clarinet, bass clarinet
Kit Massey – violin
Joelle Barker – cajon, percussion
PHOTOS + IMAGES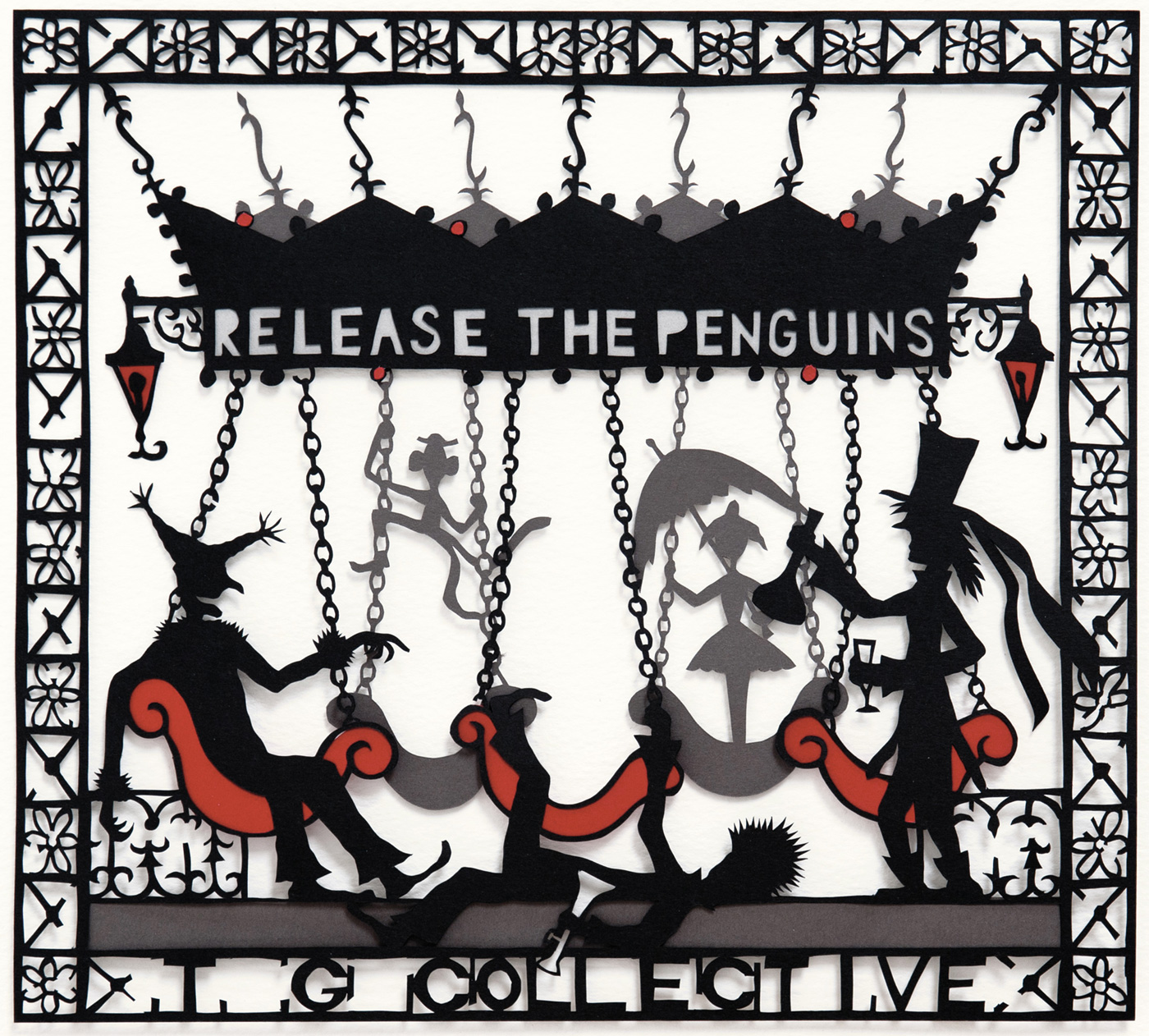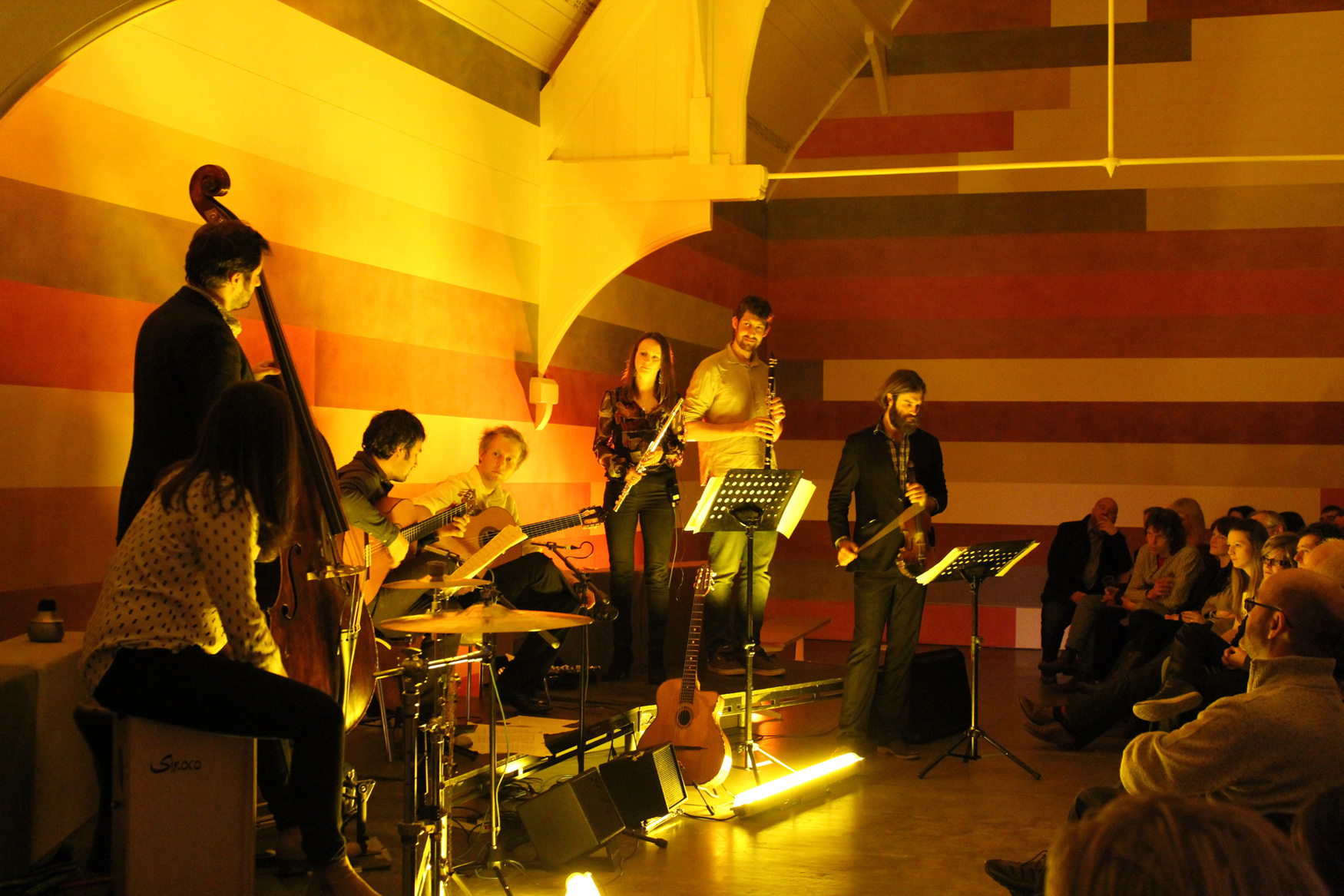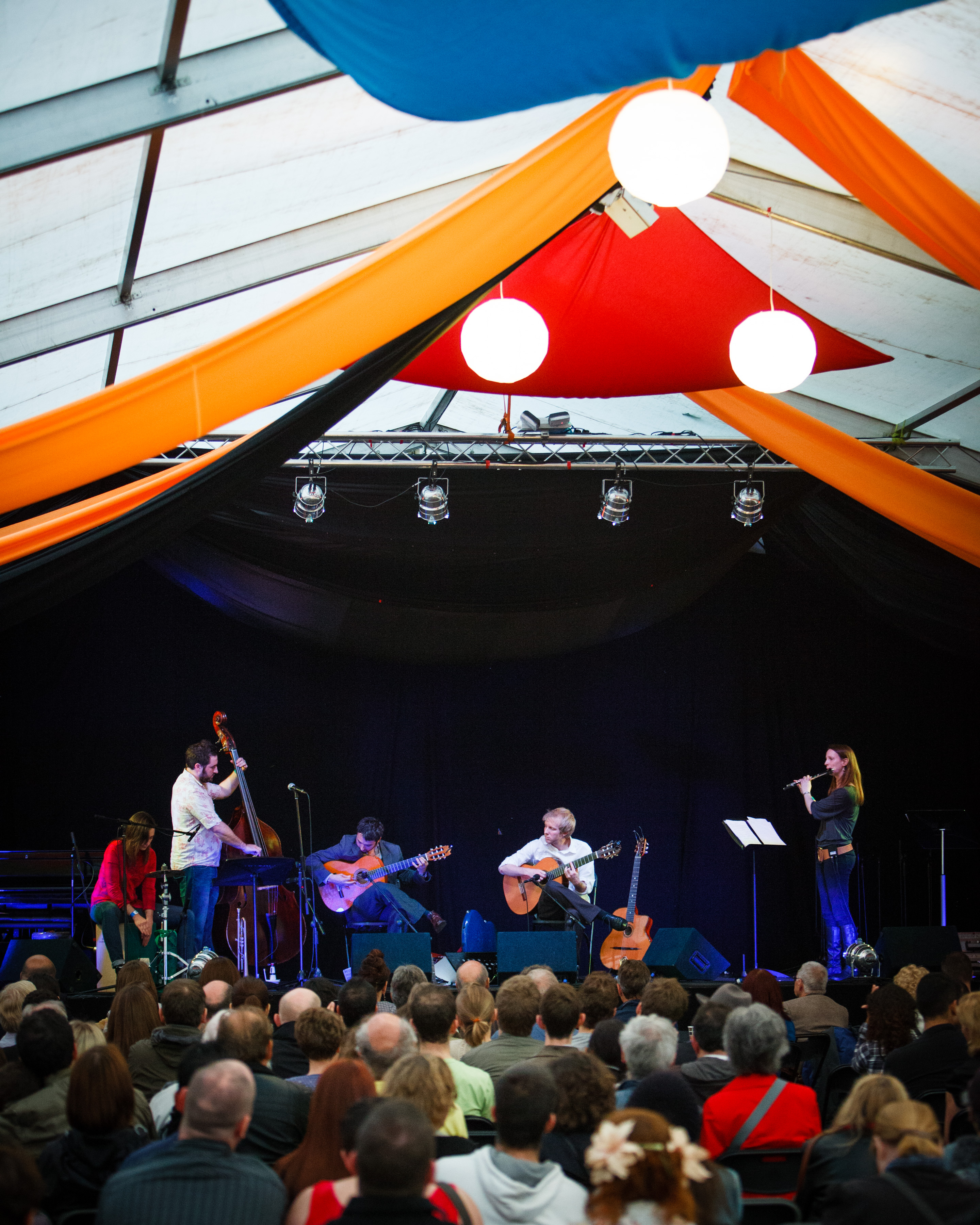 PRESS + REVIEWS
"
Jump to the last track, The Sheik of Araby, and you'll see that they can let their hair down.
The flamenco-inspired TG Collective won plaudits as Trio Gitano. Their updated, expanded line-up, with the acoustic guitars of Jamie Fekete and Sam Slater balanced by flute, violin, double bass and discreet percussion, sounds more assured than ever. From gypsy swing to hustling, Chick Corea-ish improv, a re-working of Horace Silver's
Song For My Father
and serene excursions into the baroque, the playlist always keeps you guessing. And the telepathy is always tuneful." –
Clive Davis, The Sunday Times
"… their signature eclectic sound full of gypsy jazz, flamenco influences and classical tones has strength and fluidity … their innovative and fabulous imaginative writing deserve the grandest praise" – UK Vibe
"Flamenco, jazz and gypsy-swing mingle together in the world of the TG Collective, a guitar-led sextet from a British city with a thriving home-grown global music scene – Birmingham. The collective grew out of Trio Gitano, a successful acoustic guitar trio, and Release The Penguins is the first release for the bigger group, which also features violin, trumpet, flute and percussion.
"Guitarists Jamie Fekete and Sam Slater are the driving force behind TGC and theirs appears to be a longstanding musical relationship. Not only do they play together with pinpoint precision but they share writing credits on some of the record's finest tracks: the Django Reinhardt-inspired title-track, flamenco piece 'Escape From Girona (Part II),' and the JS Bach tribute 'Homage'.
"Most of TGC's music is delivered with a fast pace and a light touch. The flute and violin tend to play in unison with the lead guitar but there is space for soloing too. Flautist Holly Jones delivers a couple of scorching improvisations, most notably on a sultry arrangement of jazz pianist Horace Silver's 'Song For My Father'. It's not just individual contributions or tracks that make the album though. With its flamenco-dominated core leavened by the swinging outer numbers, there's a pleasing overall shape to Release The Penguins. A rewarding listen all round." – Tim Woodall, Songlines Magazine ★★★★ 
"A very tasty gumbo indeed. TGC's ever widening crazy-quilt of influences … delightful … swinging … unerringly lyrical." – Jazzwise
"Release The Penguins is performed with impeccable musicianship. It opens with the title track, reminiscent in atmosphere of Django's Rhythm Futur, providing a steel-strung Gypsy jazz delight. Then suddenly we are in Spain with the second track, Silhouette. This features nylon-strung guitar played with masterly flamenco and classical guitar technique. The steel/nylon manouche/flamenco duality from the two guitarists, Jamie Fekete and Sam Slater, runs as a thread through the whole album.
"There are a couple of stunning flute solos from Holly Jones, particularly on Horace Silver's Song For My Father, but most of the music is composed, highly arranged, and draws on a multitude of influences. Louis Robinson plays violin and Percy Pursglove adds double bass to complete the core cast. In addition Percy also contributes trumpet, Tom Chapman and Joelle Barker provide cajon where required, and Laura Moody plays cello.
"With two exceptions, the music is written by members of the collective, or their associates. The musicianship of the players provides some glorious sounds and textures. There is certainly some beautiful and emotional music on this album … the eclecticism sometimes feels like listening to a soundtrack without the pictures.
This is different and interesting. And did I mention the impeccable musicianship?" – Jon Moore, fRoots Magazine