In The Press …

News, reviews & features on Stoney Lane artists

John Fordham  

31st August 2017
Gonimoblast Live with Maja S​​K Ratkje and Arve Henriksen review – electronica with improv clout  ★★★
Gonimoblast are a London and Midlands five-piece electronica band, formed by bassist Chris Mapp after an inspiring trip to Norway's Punkt festival, and including Polar Bear electronicist Leafcutter John and free-jazz drummer Mark Sanders. The group recorded two successive live shows for this limited-edition, screenprinted double album, with celebrated Norwegian adventurers Maja SK Ratkje (vocals) and Arve Henriksen, who plays flutelike, wind-toned ambient trumpet. The effects often suggest rubbed wineglasses or babbling brooks, but there are plenty of smoky, mysteriously hooting jazz-horn sounds and the participants' jazz links are plain in both the rhythmic language and the collective improv feel. The disconsolately echoing purity of Ratkje's chants dramatically contrast with churning electronic undercurrents and Mapp's fast-moving basslines, while her scat-like staccato inventions rise amid orchestral effects like hordes of violins. Henriksen's half of the set is more song-shaped, as his plaintive trumpet exhalations and querulous-chorister vocals wheel amid fast, free-swing drum patterns, church-organ reverberations and nudging jazz-piano chords. It's electronica, but with plenty of mood-swinging clout.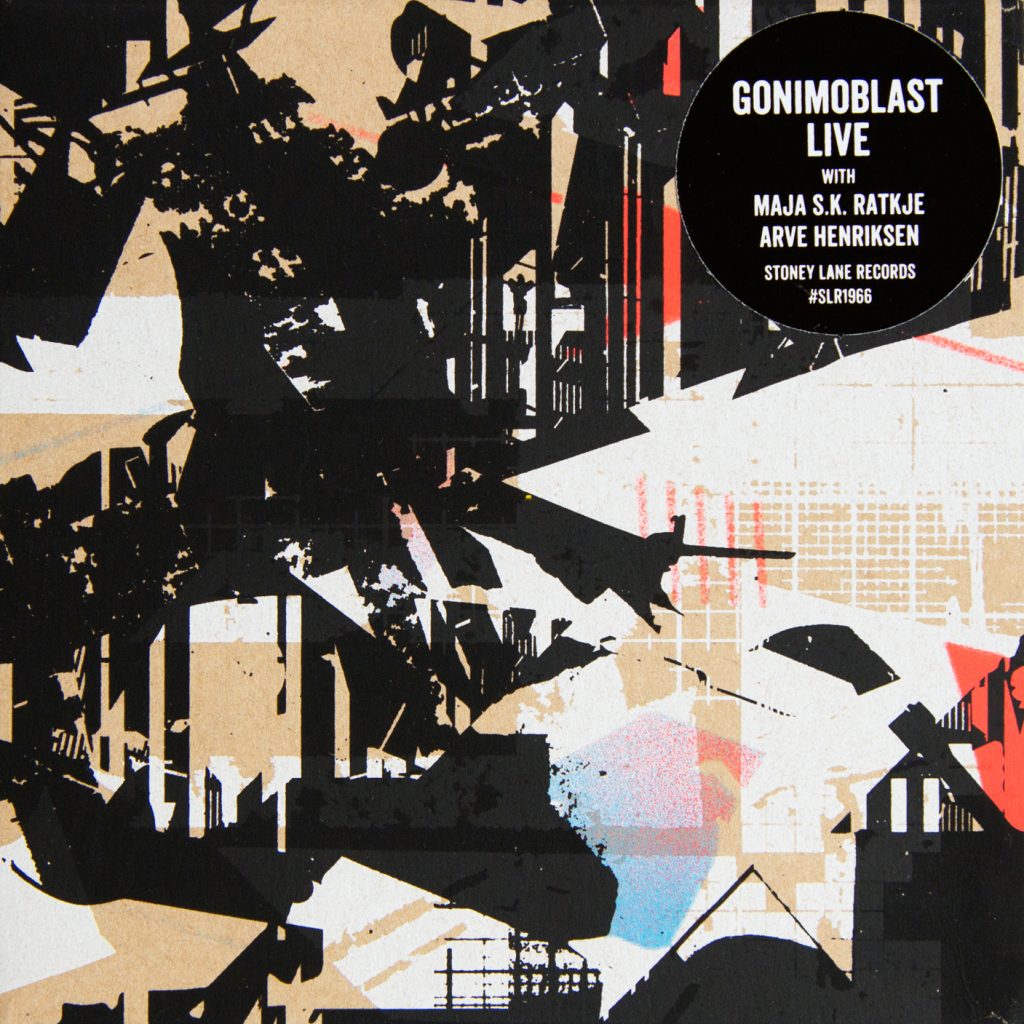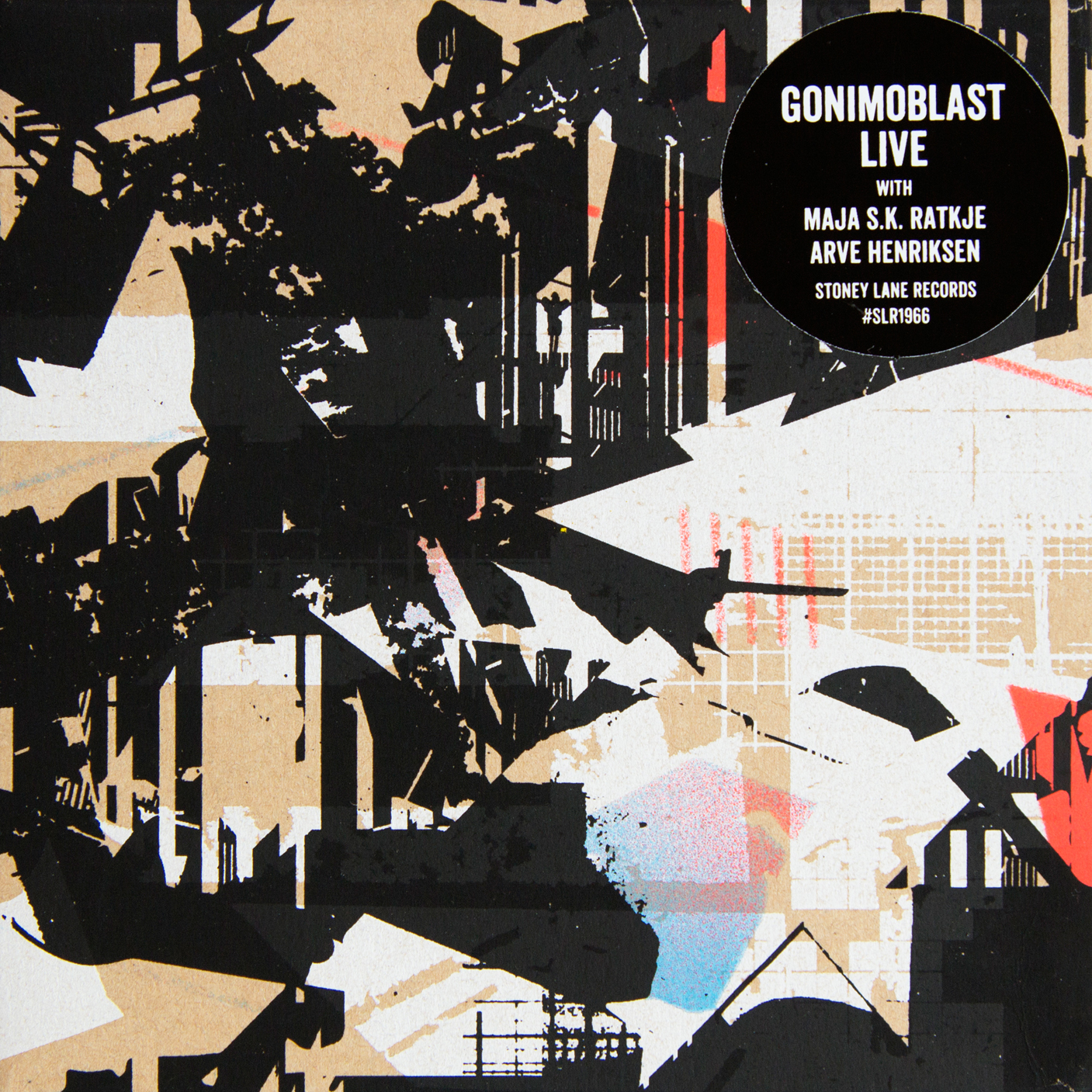 Gonimoblast
Gonimoblast Live – with Maja SK Ratkje & Arve Henriksen
#SLR1966
Listen, download & buy CDs from the SL Emporium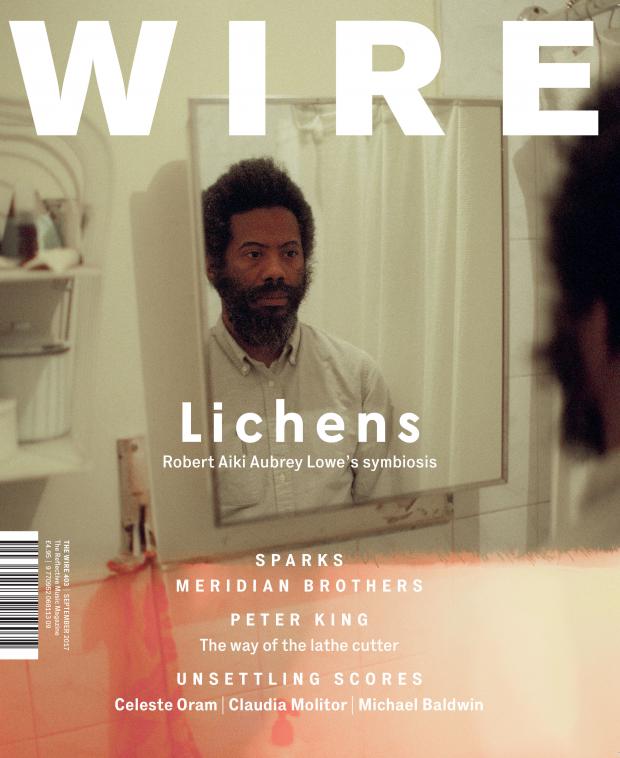 Mike Barnes
September 2017
"… One thing that Gonimoblast particularly seek in their improvisation is a kind of blurring of each musician's roles so that the listener concentrates more on the overall picture rather than specific exchanges. Not that this implies a muddy sound. The disc featuring Ratkje on vocals, processing and oscillators begins in a spacious, lyrical way. She is always a strong live performer, both solo, and in a group format as evidenced on last autumn's live album by SPUNK, Still Eating Gingerbread For Breakfast. She works within the mix until about 25 minutes in, when a sudden outburst of terse, gestural sounds of tuned percussion and flurries of low-end synth, catches her ear and she really sings out, while subjecting her voice to processing.
The performance is subtle throughout. Later on, there are sections of multilayer electronic and voice loops, and towards the close she enters a kind of clearing, singing a wordless almost folkish melody with long held notes while the ensemble off inquisitive clicks, purrs and mumbles. This all rises in intensity towards the close with waves of cymbals and Ratkje's distant eerie shrieks.
Gonimoblast were keen to get Henriksen's participation as they are fans of his group, Supersilent. The performance her carries quite a different mood from that group and from the Ratkje CD, beginning with a hushed, literally muted, trumpet soliloquy and gently buffeting noises. Henriksen also sings chorister falsetto in the first half of the set as electronics signal through space like early Popol Vuh and then he loops his trumpet while playing a top line. There's no big finale here; in fact, it winds right down to a slow, melancholic trumpet melody weaving through flickering detail, with admirable restraint shown by all. Both sets are object lessons of how to listen to other musicians while improvising."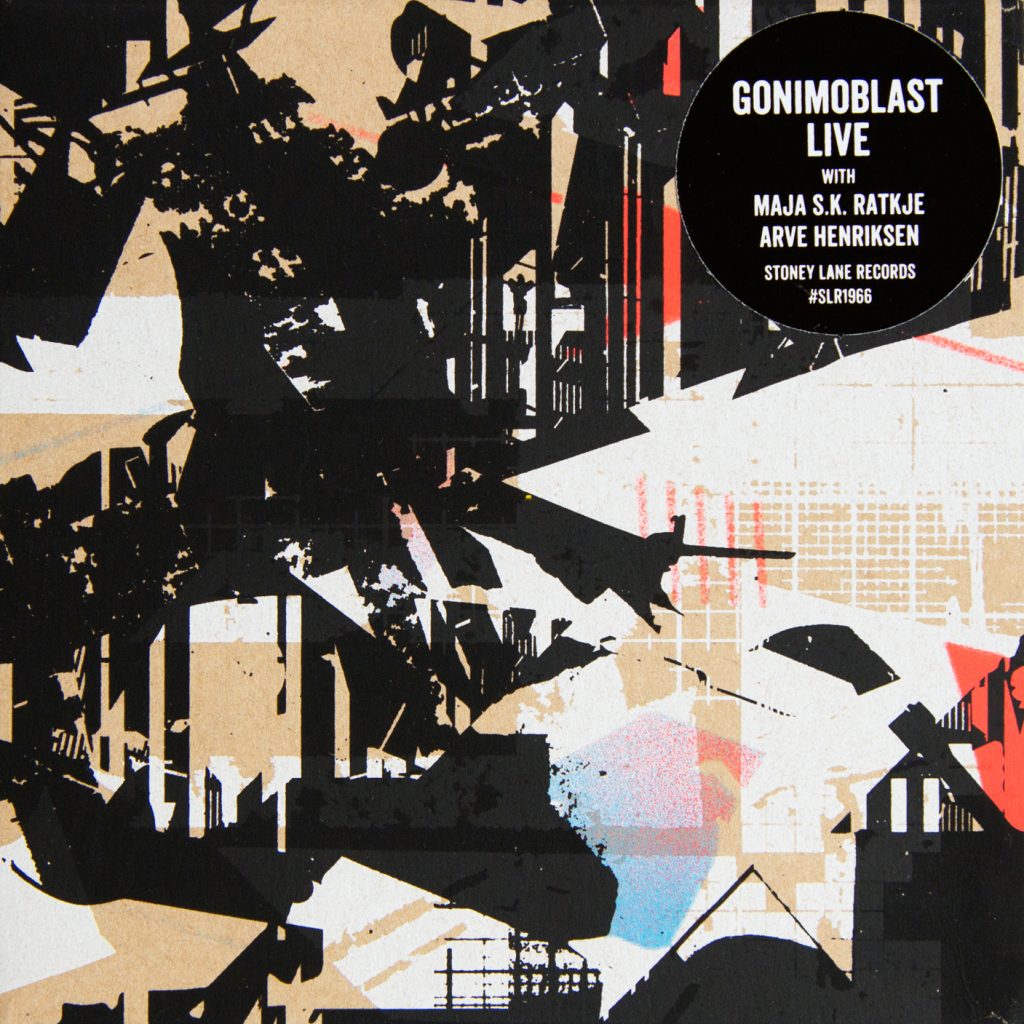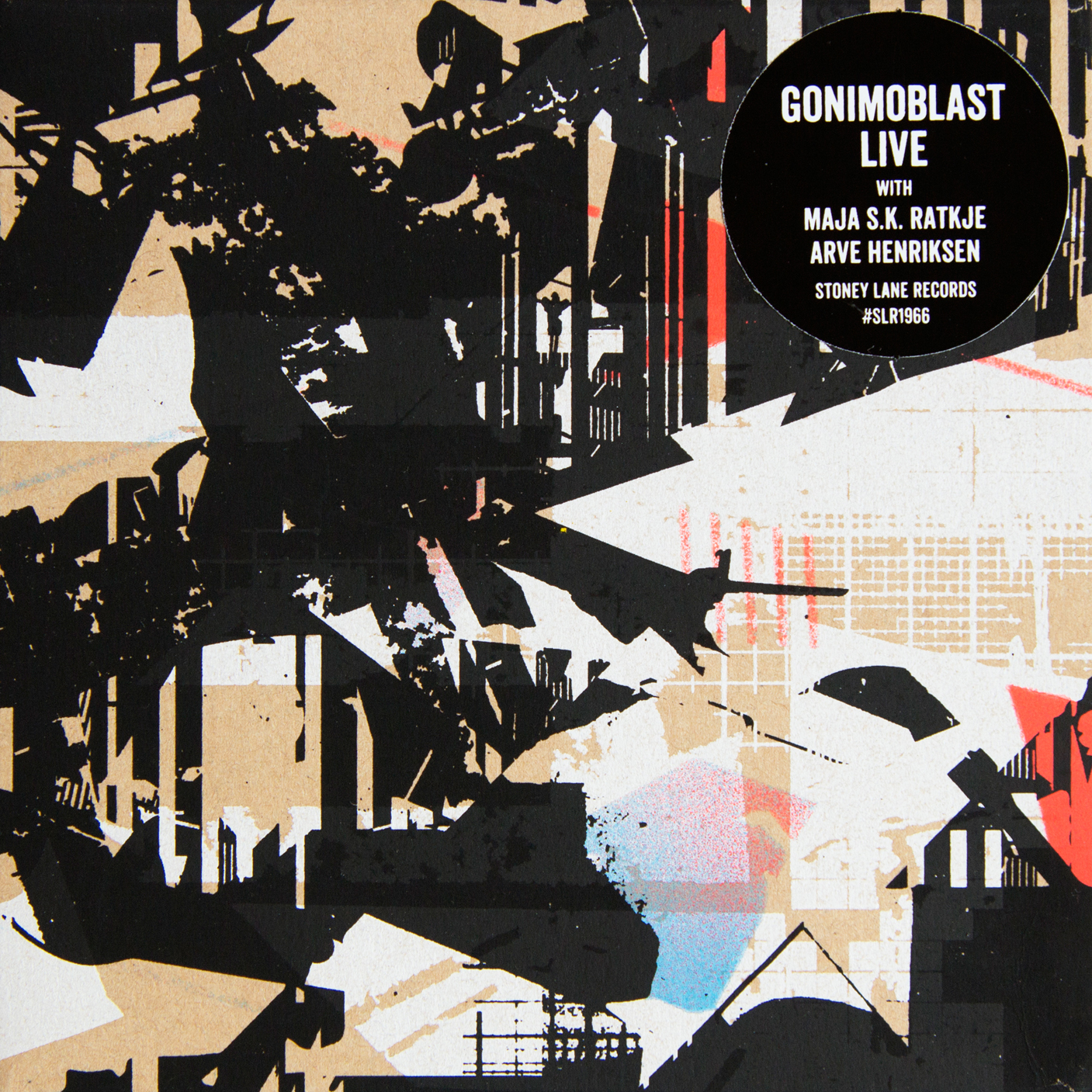 Gonimoblast
Gonimoblast Live – with Maja SK Ratkje & Arve Henriksen
#SLR1966
Listen, download & buy CDs from the SL Emporium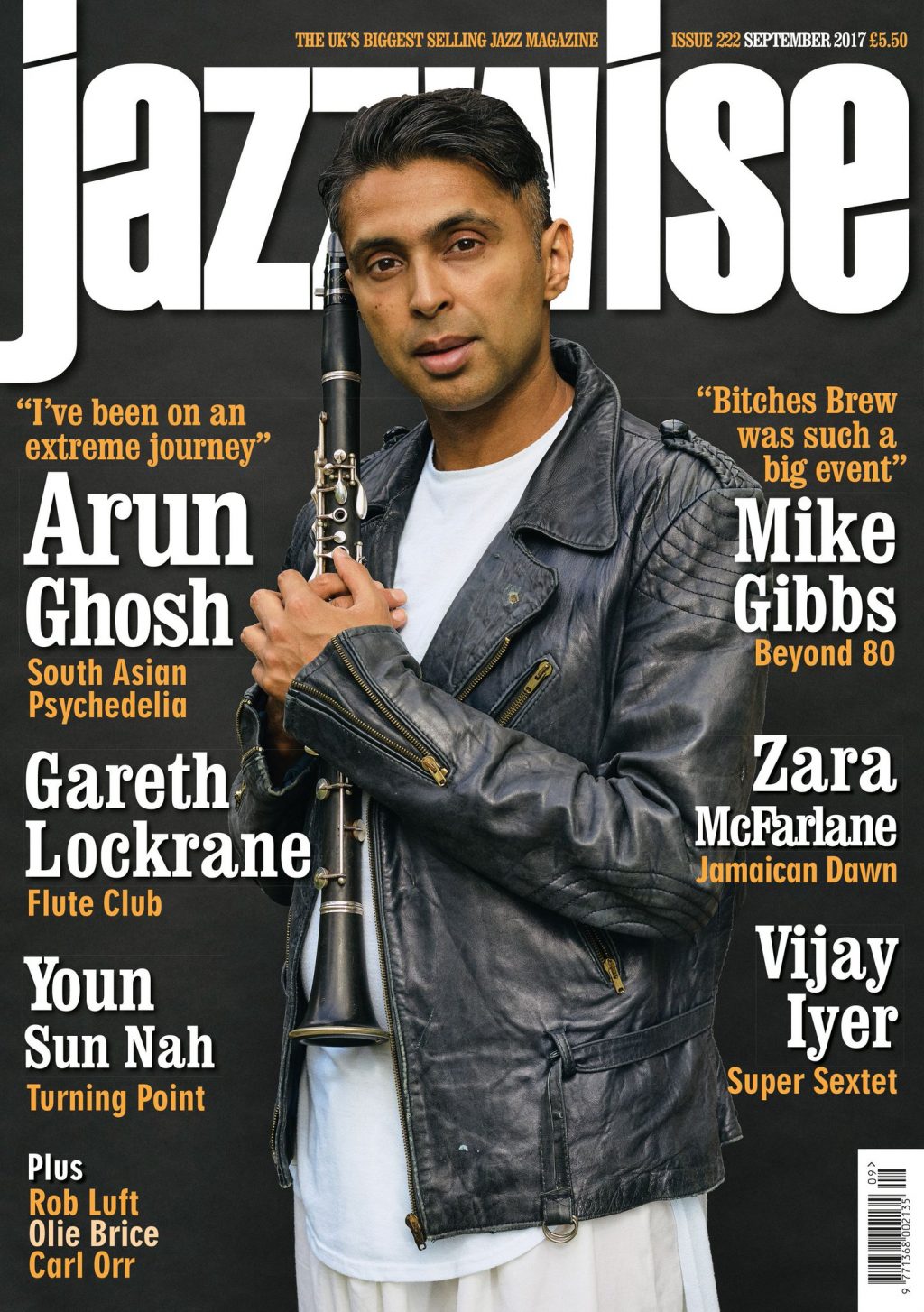 Peter Bacon  

September 2017
★★★★
"Although jazz is a vehicle for both individual and group identities, in many bands it is the personality of the character of the individuals that we most easily identify. Chris Mapp's way of working is very different and through this Birmingham/London Quartet has developed a strong character – abstract, free improv but with a basis in dark, Scandi death-metal – it is very much a group sound and concept that we hear most strikingly. In fact, it is often hard to tell which sound is being generated by which member of the group, even when experienced live. A pair of rainy autumn evenings in a black-box theatre in Digbeth, Birmingham, complete with atmospheric light show and two esteemed Norwegian guests, has resulted in a pair of CDs, and the music works just as well on a recording as it did in live performance.
The first disc, with Ratkje, is very much a slow-build affair, growing ever-so-gradually from space-filled bloops and bleeps to a monumental climax/release of all that stored-up intensity.
The night with Henriksen is in some ways a less abstract affair. The trumpeter/singer is more of a melodist and the band responds to his often delicate, devotional way of performing, with a sensitively supportive soundscape. Try 'Part IV' for a prime example. It's no surprise that the Norwegians fitted in so well; Mapp's visit to the Punkt Festival some years back was a crucial trigger to the creation of Gonimoblast. The results are both highly original and strongly impressive. These discs, Birmingham-based Stoney Lane's eighth release, are part of a limited edition of 408 copies, carefully produced in screen-printed sleeves designed by Tom Tebby."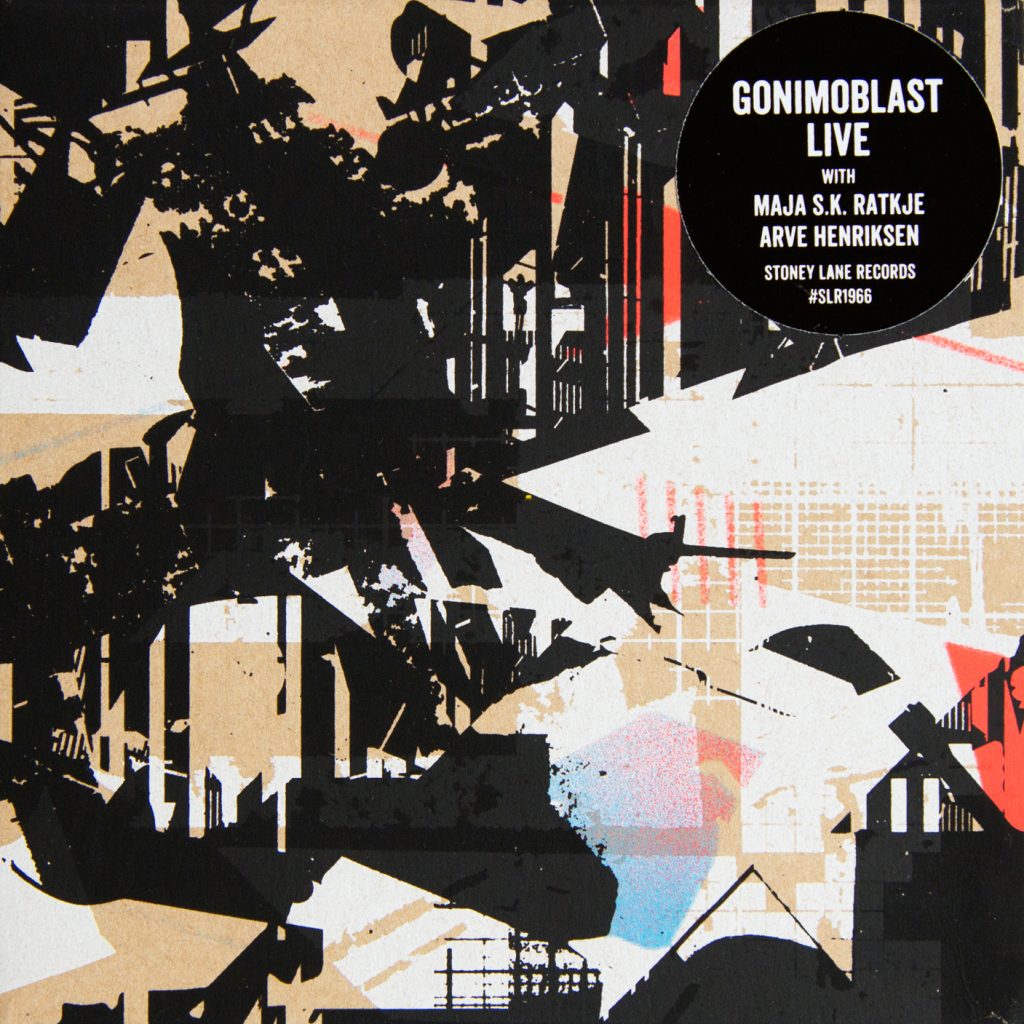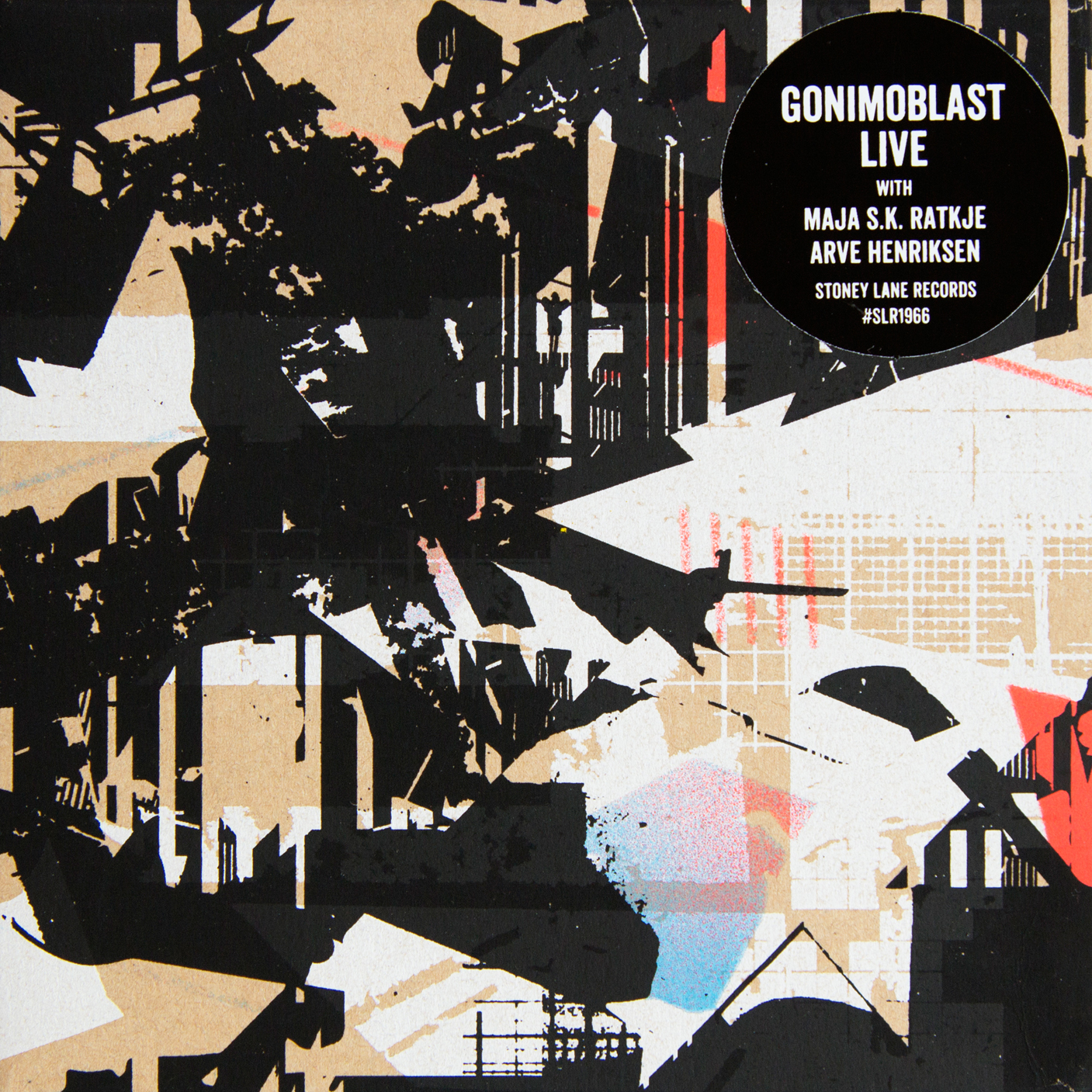 Gonimoblast
Gonimoblast Live – with Maja SK Ratkje & Arve Henriksen
#SLR1966
Listen, download & buy CDs from the SL Emporium

Mark Sullivan  

25th August 2017
"… They take a generally minimalist, ambient approach.  But Disc One has plenty of interesting details: the almost Spaghetti Western-sounding whistling on Part I; the skittering electronics in Part III; and the insistent rhythmic looping in Part IV, for example.  Ratkje's vocals first become audible in Part II, but they are electronically processed in such a way that they blend into the rest of the texture.  Concluding Part VI features some lyrical singing (accompanying herself via looping), but it builds to a thunderous climax.
Henriksen's trumpet makes its entrance during Part I on Disc Two, a lyrical contrast to the electronics underneath it which morphs into a looped electronic presence.  Part II features his vocals, as does Part IV (employing that angelic falsetto sound, looped with itself).  Part V goes heavily into Jon Hassell world music territory, with looped trumpets that could be heard as an homage – a lovely, unexpected musical event. The Hassell sound continues into Part VI in the form of electronically harmonized trumpet.  Henriksen also takes his most lyrical trumpet solo in the set, accompanied only by sparse electronics.  There's another section with electronically treated trumpet, then the set concludes with beautiful falsetto vocalise.
Gonimoblast has been performing together for several years, and have developed a rich ensemble sound in which it is often difficult to hear where one musician ends and another begins. The group is elevated by these Norwegian guests: the album is especially recommended to Arve Henriksen fans. The double CD albums feature original artwork by artist Tom Tebby, with each individual album screen-printed, hand painted by the artist and assembled by hand. It's a striking package, an art object in its own right.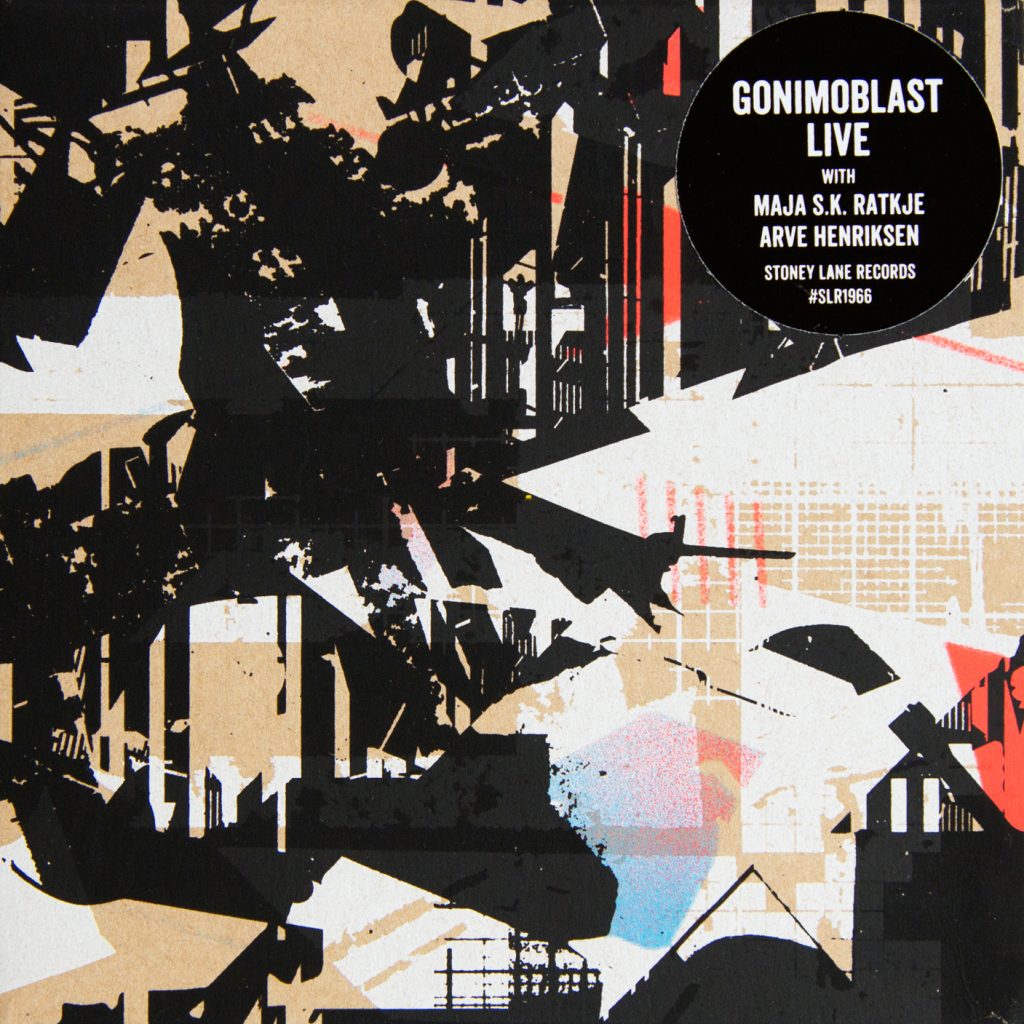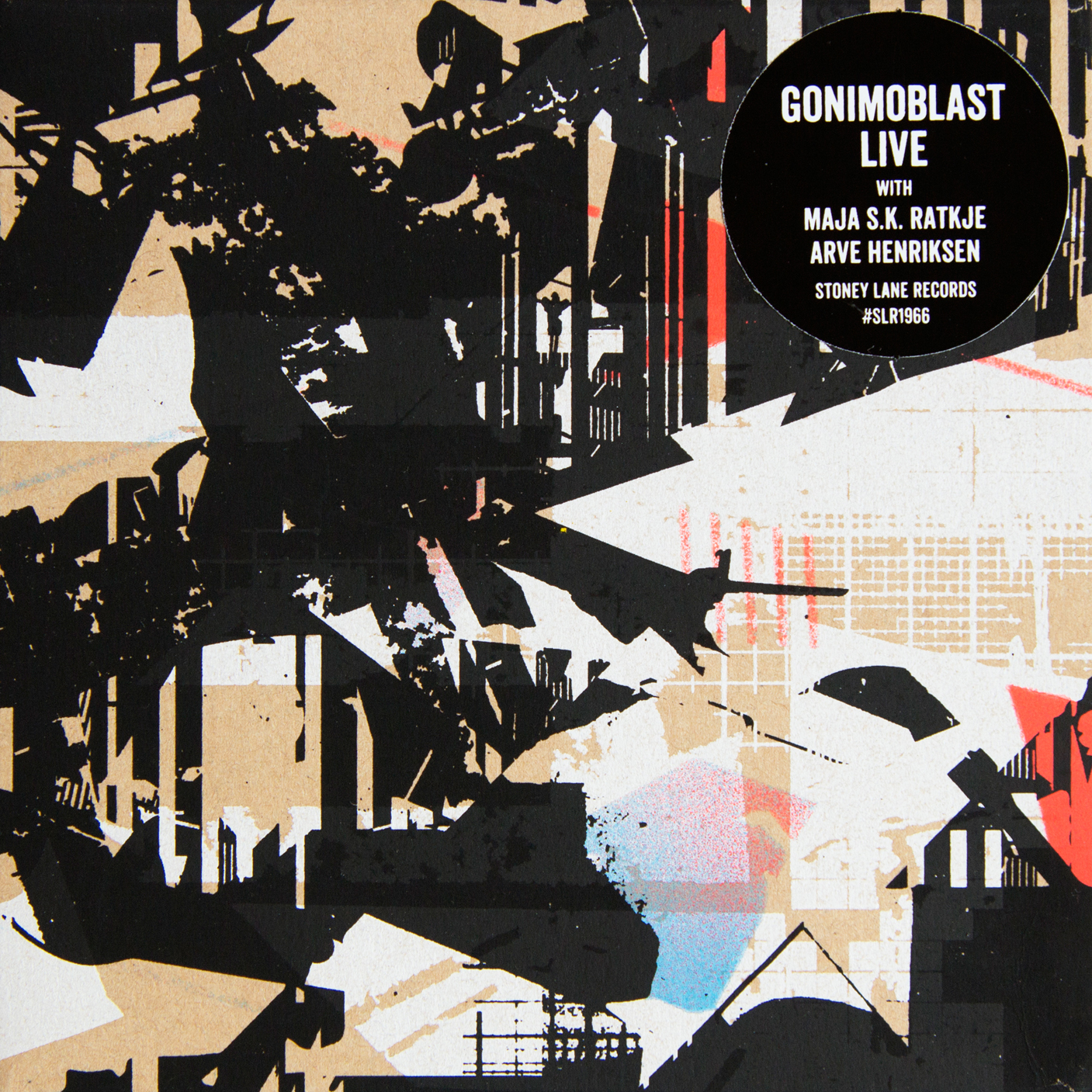 Gonimoblast
Gonimoblast Live – with Maja SK Ratkje & Arve Henriksen
#SLR1966
Listen, download & buy CDs from the SL Emporium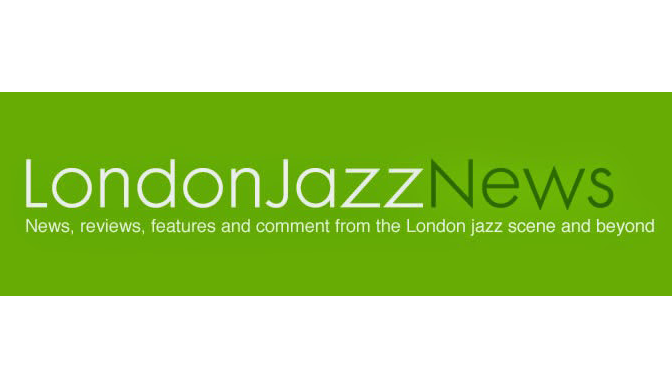 AJ Dehany  

August 2017
"… it was support from Birmingham promoters Jazzlines and Jerwood Charitable Foundation funds that gave them the dirty time to develop the strong focus and unity of purpose that have characterized their performances since the start of 2015.
Live was recorded over two nights in November 2015 at The Crossing, an expansive black box theatre among the evocative dereliction of warehouses and canals in the former industrial district of Digbeth, Birmingham. The group's activity earlier in the year has been represented on three online releases, Always Darkest Before Dawnn(with trumpeter Sam Wooster), The Depths, and Flatland (with Shabaka Hutchings). This is the first Gonimoblast recording to be released by the Stoney Lane label, in a lavish, limited edition screen-printed by artist Tom Tebby.
This double live album is a plateau from which to view the group's dizzying progress. There's a symphonic sense of overall form that develops and emerges from the group's strong discipline and cultivation of intensity over the discs' slowly burning two hours. Each disc is centred around a guest. The first is Norwegian vocalist Maja S.K. Ratkje, performing with discreet microphones and several layers of processing.
The group opens with quiet abstraction: pointillist daubs of percussion and sound in a discrete  integrated sound world. There is a deliberate blurring of electronic and acoustic elements. A sound you might ascribe to the kit might come from Leafcutter John, and vice versa. With the whole group apart from Sanders using electronics there is an enjoyable uncertainty in not being sure who is doing what, what is improvised, what is live, what is created in the box and what has been fed back and reprocessed. It takes a couple of listens to separate out the threads and even then you're never completely sure.
As the interactions develop, more typically "musical" and tonal elements are introduced, with electronic whistling, mechanical drones and intense playing from Sanders and Mapp. Material gathers and loops in thorny clumps of texture, thickening and driving forward with darker intent. Maja Ratkje's vocals become a larger presence; speech particles patter through delay pedals, half-thoughts are churned into glossolalia; and only in the first hour's climactic finale is there conventional singing, in a beautiful clear Scandinavian voice. You can picture the players silhouetted against columns of light, which they were on the night. Hurricanes and helicopters crescendo, synths sweep incandescently across the sharp horizon of a white sky with an inscrutable universal emotionality reminiscent of Sigur Rós.
The second disc features trumpet player and vocalist Arve Henriksen. It launches almost in medias res into an unsettling sound world of throaty vocal phrases underpinned by clattery arrhythmias. It has more of the doomy sense of Chris Mapp's work prior to Gonimoblast and to be found in the heavier moments of Fram from the second album The Depths. Even with electronic manipulation Henriksen's trumpet is inescapably tonal but the more conventionally musical sense of the second hour complements the first's sonic abstraction — though any provisional key centre keeps shifting, approximating a modernistic atonality between moments of suggestive tonality: the sort of thing scholars argue about with regard to harmony and modality in Debussy and Stravinsky. Compared to the sensational but more obviously free jazz impetus such as we heard in their intense work with Shabaka Hutchings mere months before, Live is an impressive and satisfying integration of supposed opposites: tonal and textural, sonic and musical, electronic and acoustic, composition and improvisation. It's slow burning 21st-century music for a time of ceaseless noise."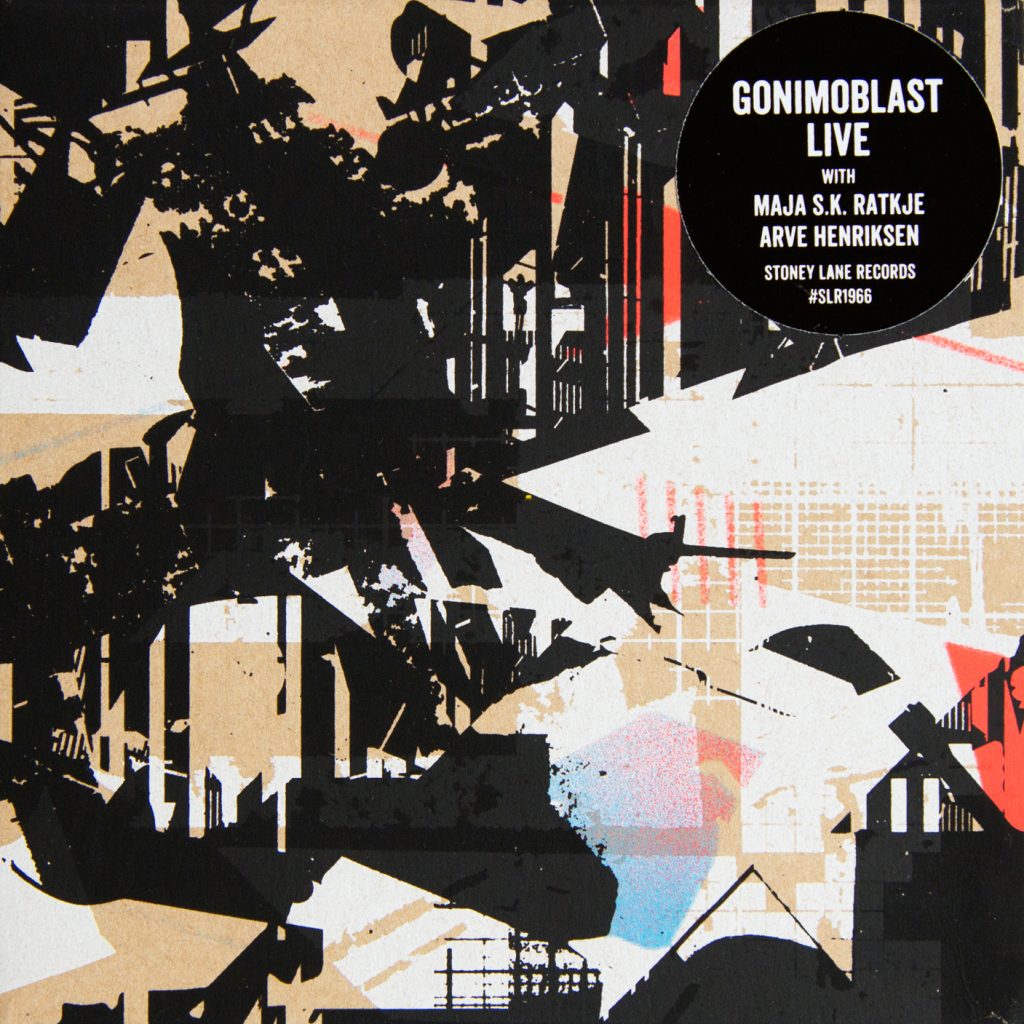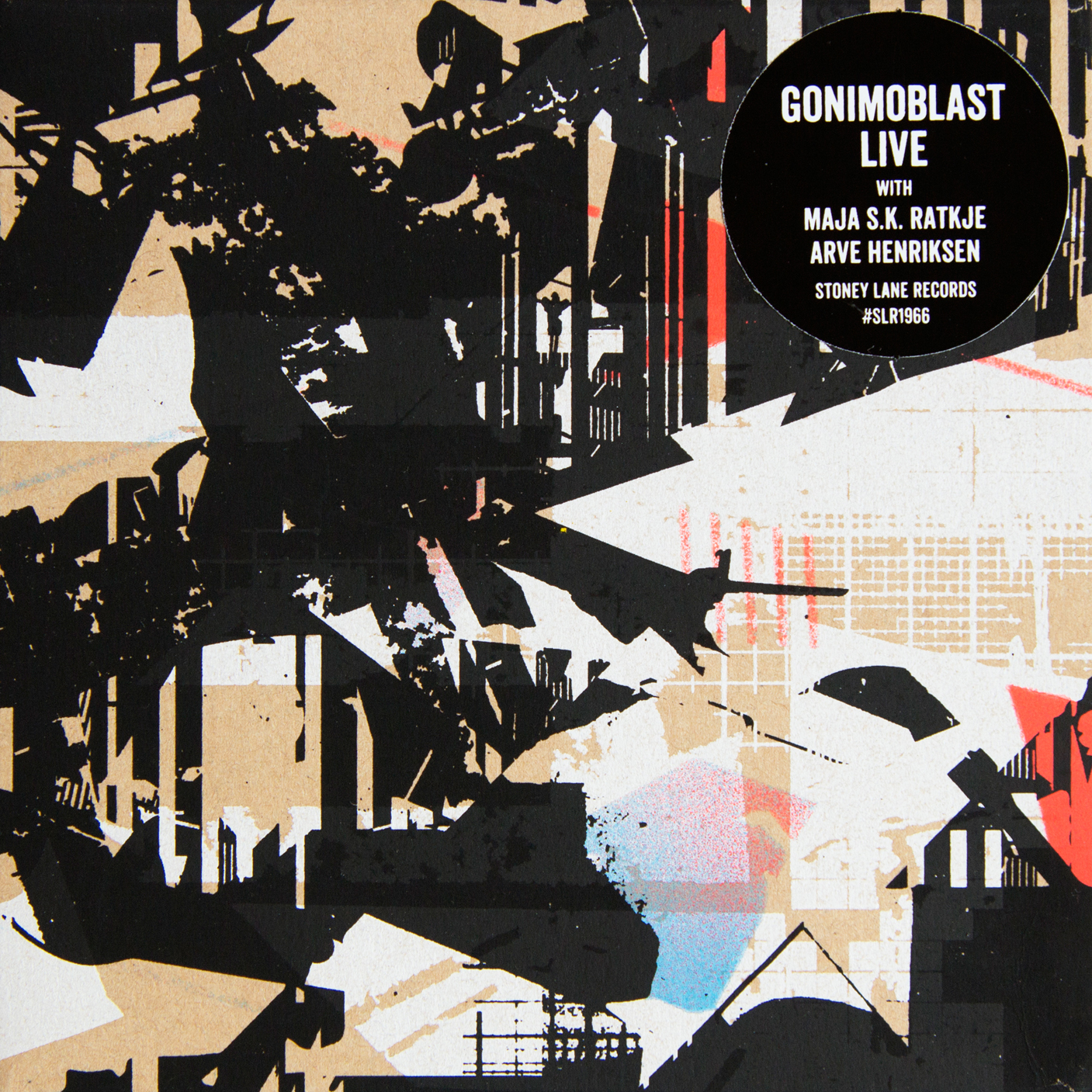 Gonimoblast
Gonimoblast Live – with Maja SK Ratkje & Arve Henriksen
#SLR1966
Listen, download & buy CDs from the SL Emporium
Tim Owen  

July 2017
A gonimoblast is a storage or generative cell in algae, so I guess adopting the name for a band suggests an urge to seed something rootless, in which case kudos to Chris Mapp and co. for this lively synthesis of improvisation and electronics.
Gonimoblast the band is Mapp on bass and electronics with Mark Sanders on drums and percussion, Dan Nicholls on keys and synth, and Leafcutter John playing electronics, a light interface and music box.
Sanders is one of London improv's most versatile, but he's also held the drum chair in Jah Wobble's Deep Space band. Leafcutter John may be best known as a part of Polar Bear, but their most radical adventures in sound manipulation (cf. In Each And Every One) are closer to orthodox than Gonimoblast, which draws more deeply on John's DIY electronics.
Gonimoblast was active throughout 2015. Always Darkest Before Dawnn was the first of three previous releases recorded and released that year, the last with saxophonist Shabaka Hutchings depping for Nicholls (all are available via the group's Bandcamp).
The 2CD Live documents concerts on two consecutive November evenings, with guests Maja SK Ratkje (voice, electronics, oscillator "and things") and Arve Henriksen (trumpet, pocket trumpet, vocals, electronics).
The set with Henriksen moves quickly from gameboy Leafcuttings into a glitched gloaming probed by deep bass surges and skittish percussion, a Supersilent-like setting for wordless vocals by Henriksen with a hint of Diamanda Galás archness.
There's an abstract fusion quality to Mapp's basswork, and Henriksen's trademark trumpet makes explicit a connection to Scandinavian jazz, but Nicholl's synths set the music on a more opaque drift into stillness, and Henriksen's wordless soprano takes on a purer liturgical quality.
His sampled and looped trumpet on the long fifth index probes Jon Hassell's Fourth World concept, then Sanders introduces bolder pan-cultural pulses with deep bass drum booms and Leafcutter John throws down wayward midi tweaks and twitches.
A slightly less coherent stand-alone sixth index, with its late injection of harp-like music box and fractured emotive vocals over minimalist loops, sounds like it might have been an encore/afterthought.
The previous night's recording, featuring Ratkje, begins with theremin-like whistling amid a riffling, fluid soundscape as Ratkje's vocals offset slithery strings.
Where Henriksen's aesthetic predominates Ratkje seems keener to find new specificity in this new context, and her contributions are more ingrained.
After index 2 takes a darker turn, 3 becomes more playful, and as the first solid bass and percussion sounds emerge Ratkje's vocals are sampled and (literally) spun. At length the group settle into a dirty-silent whirl of turntablist run-out bridging into index 4, where loops with a hint of tautly rhythmic west African guitar bleed into smears of electronic distortion and synth gloaming.
Index 5 locates more equilibrium and directionality. Ratkje conjures siren voices bedded with soft bleeps and skittering, then sets up a lazy keening over hazy electronics and bass throbbing. The set gets edgier, but retains an etherial, numinous quality pending a climactic accumulation of tension.
Each of these sets is a distinctive fusion, outlying any of the participants' core catalogues, and it's an excellent summation of Gonimoblast's year of intensive woodshedding.
The physical edition, on Birmingham-based Stoney Lane Records, is limited to 408 copies, which come in handmade sleeves individually screen-printed and hand painted by artist Tom Tebby. Definitely worth an investment.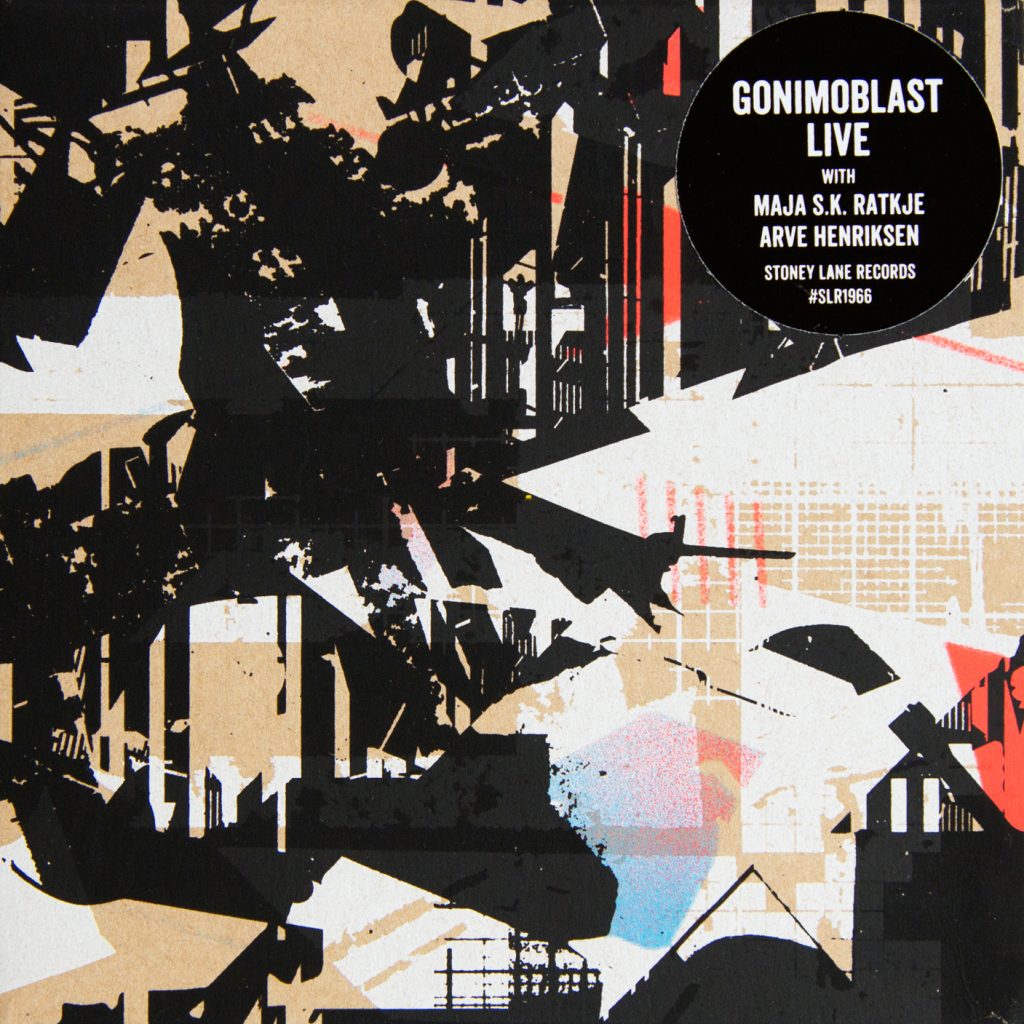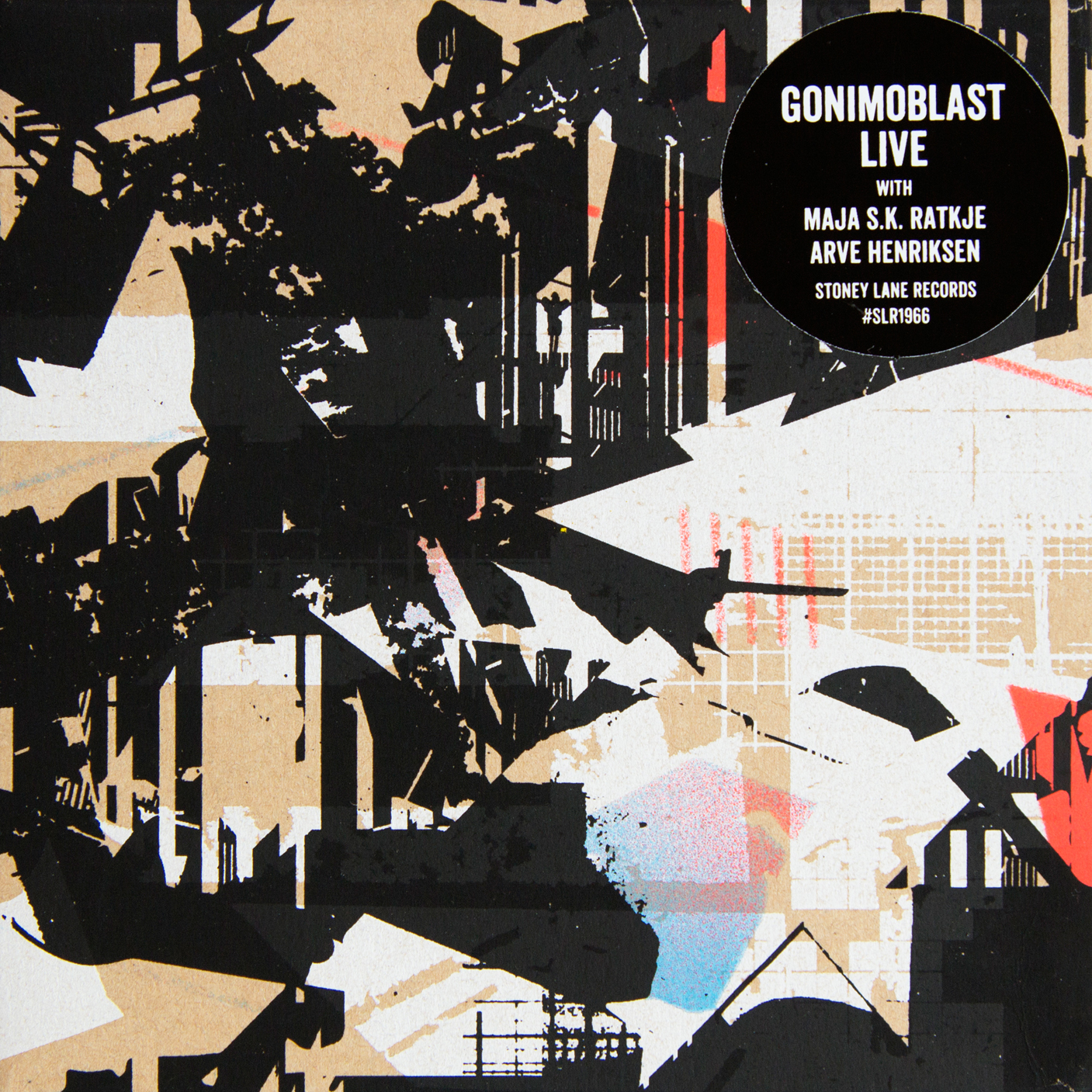 Gonimoblast
Gonimoblast Live – with Maja SK Ratkje & Arve Henriksen
#SLR1966
Listen, download & buy CDs from the SL Emporium